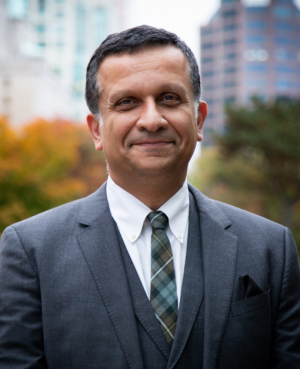 Justice Andrew Mayer
Justice Andrew Mayer was appointed to the Supreme Court of British Columbia on April 12, 2017 and sits in Vancouver. He has served as a Director of JES since 2019 and was appointed by his fellow Directors as President of the Board in September of 2021, replacing Justice Lori Ann Fenlon of the British Columbia Court of Appeal. Justice Mayer continues to be an enthusiastic supporter of JES' programs and in particular, the Justice System Education Program (JSEP).
Prior to his appointment to the Supreme Court of British Columbia Justice Mayer acted as General Counsel and Vice President of Commercial and Regulatory Affairs at the Prince Rupert Port Authority. During Justice Mayer's eight years in Prince Rupert his work included conducting complex, multi-party corporate-commercial negotiations, regulatory affairs, and acting as lead negotiator in consultations with First Nations. Prior to going in-house with the Port Authority in 2008, Justice Mayer practiced primarily in the areas of marine and environmental law and civil litigation with two prominent Vancouver law firms. He has appeared before all levels of court in British Columbia, the Federal Court of Canada and Federal Court of Appeal.
Born in Chemainus, British Columbia, in an Indo-Canadian family with six children, Justice Mayer obtained his B.A. in Classical Studies from the University of British Columbia, Diploma in Shipping and Marine Operations from BCIT and went on to earn his law degree from the Schulich School of Law at Dalhousie University, which included studies at the National University of Singapore Law School. During the course of his legal career, Justice Mayer regularly published, including contributing to a peer reviewed legal textbook and authoring a number of journal articles in the areas of environmental, marine and transportation law. He has been recognized for his expertise in these areas. Before his appointment to the British Columbia Supreme Court Justice Mayer served as a Director and Committee Chair for the Canadian Maritime Law Association, a member of the Law Committee of the Association of Canadian Port Authorities and as a Director of the International Sailors' Society Canada.