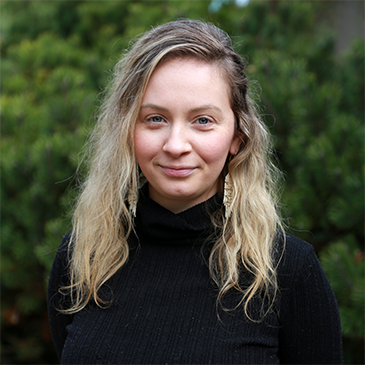 Megan McGeough
Assistant Director, International Program
Megan McGeough has over 5 years of experience in implementing, planning and coordinating projects in education, gender, and applied arts for sustainable development. As Assistant Director of the International Program at Justice Education Society (JES), Megan supports international programming and operations by working directly with in-country JES teams on projects enhancing gender justice, justice education and prevention of gender-based violence.
Prior to joining JES, Megan was a Project Officer with the United Nations Association in Canada, coordinating the International Youth Internship Programme funded by Global Affairs Canada. As a consultant with the UK-based organization Theatre for a Change, she worked with conflict-affected youth in Palestine on incorporating arts-based methodologies to create gender-based violence prevention radio broadcasts in the West Bank. She also worked with the grassroots organization Collateral Repair Project in Jordan, implementing USAID-funded educational programming for refugees and displaced persons.  
Megan holds two Master's degrees from the University of London: an MSc in Development Studies from SOAS and an MA in Applied Theatre from RCSSD, as well as a BA in Anthropology from the University of British Columbia. She has worked in many corners of the globe, including Egypt, Jordan, the Occupied Palestinian Territories, the UK and Canada, and holds proficiency in English, French and Arabic. She is experienced in working with displaced, conflict-affected populations in protracted crisis zones, and supporting individuals and communities in advocating for their rights and well-being, with a strong gender and applied arts focus. Megan also enjoys spending time with her family (and extended dog family!), exploring the great outdoors and travelling.