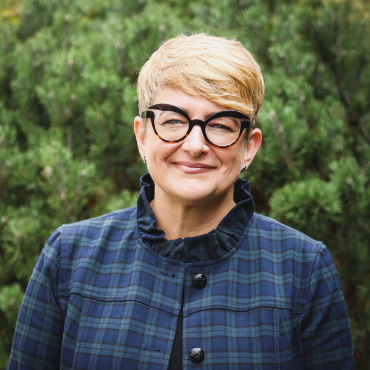 Sonia Poulin
Chief Executive Officer (CEO)
Driven by her passion to ensure fair and equitable access to justice for all, Sonia Poulin is an experienced justice sector leader and Chief Executive Officer of the Justice Education Society (JES).
Since 2017, Sonia Poulin has led JES' strategic direction and ensured its financial sustainability, while honing its focus on equitable justice reform, accessible legal education and information, and innovative digital solutions across several countries. Sonia believes in inclusive, collaborative leadership that's informed by meaningful stakeholder engagement, and continually seeks opportunities to strengthen the rule of law and improve the lives of marginalized communities who face barriers to justice.
Sonia has more than 25 years of leadership experience within the justice and legal sectors, and has held a number of progressively responsible positions in law firms, academia, government and nonprofit organizations. She co-founded a public legal information and education organization and has contributed to numerous boards in various capacities at national and international levels, including Chair of the Canadian Legal Information Institute, and currently serves on the Board of the Public Legal Education and Association of Canada.
Prior to joining JES, Sonia was on the senior leadership team of Resolution and Court Administration Services of Alberta's Justice and Solicitor General where she was responsible for the vision and leadership of province-wide programs and services to meet the needs of the judiciary, legal profession, prosecutors and members of the public served by the system, and ensured the work of the organization aligned to the complex policy environment affecting the Government, Courts and Law Society. Sonia led the design of a provincial operational model and framework to support access to justice and court administration, and contributed to various provincial and national justice reform (criminal and civil) projects, including the modernization of the justice sector.
Sonia holds a Bachelor of Arts in Linguistics and French Studies from Concordia, a Master of Information Studies from McGill, and a Master of Business Administration from the University of Strathclyde in Glasgow. Sonia has also studied law in the UK and Canada, and is an LLM candidate in Human Rights and Humanitarian Law at Aberystwyth University in Wales. She is fluent in English and French, as well as highly proficient in Spanish and German. Sonia was born with a suitcase and is a passionate globetrotter, rescuing dogs along the way, while enjoying academic and other thrilling pursuits!