JES Projects
Online Dispute Resolution Platform
The JES Online Dispute Resolution (ODR) platform was first developed and introduced as a voluntary tool that assists people in resolving disputes in British Columbia's Small Claims Court.
We developed the ODR platform in 2013 with funding from the Canadian Bar Association's Law for the Future Fund. At the time, it was Canada's first ODR platform connected directly to a court, and it informed development of British Columbia's Civil Resolution Tribunal.
ODR provides a digital pathway that supports people to negotiate online, and where possible, settle without going to court. The platform reduces legal administration costs by decreasing the volume of cases moving forward to trial or formal hearings.
Funder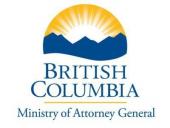 We've continually refreshed content on the JES ODR platform and have created custom versions for other jurisdictions including:
Community Legal Aid of Southern California: Small Claims Court
BC Property Assessment Appeal Board: Tribunal disputes - mediation and arbitration
BC Vehicle Sales Authority - consumer/dealer vehicle disputes
The JES ODR platform supports two-party disputes, with or without a mediator, and is ideal for resolving money claims—including small claims court, traffic tickets, administrative tribunals, consumer disputes, and more.
Our platform provides courts and tribunals with significant cost savings compared to commercial vendors. As a non-profit organization, JES is not focused on earning profits with our ODR platform—rather, we're keen to support the justice sector to improve access to justice and client service, while reducing costs.
Interested in Online Dispute Resolution? Connect with the JES Digital Solutions team to learn how your jurisdiction can implement ODR effectively and affordably. Contact Us with JES ODR in the subject line.
The JES ODR platform provides a digital pathway that support parties in dispute to negotiate online and where possible, settle without going to court
The JES ODR platform reduces legal administration costs by decreasing the volume of cases moving forward to trial or formal hearings